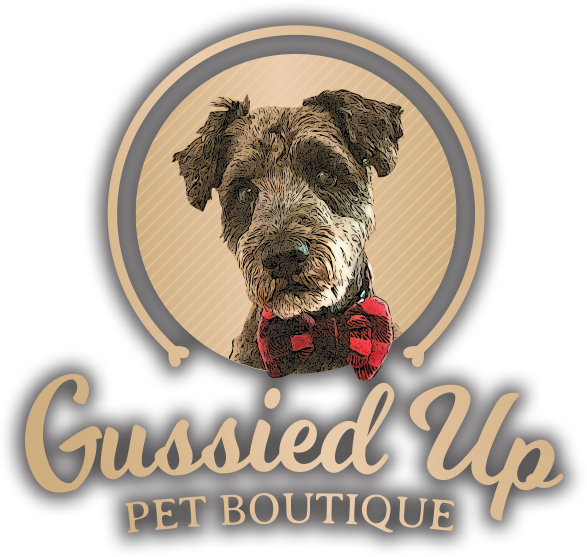 Welcome to Gussied Up Pet Boutique, your ultimate destination for spoiling your furry friends! Browse through our top-notch pet accessories and gifts!
Unique Pet Gifts & Accessories
At Gussied Up Pet Boutique, we believe our pets are more than just cute companions, they're four-legged family members! View some of our most popular products below!
Gussied Up Pet Boutique was born in the midst of the 2020 COVID-19 pandemic, when it became more apparent than ever, the important role our pets play in our lives. The idea came when I wanted to treat my dog, Gus, for always being by my side; so we set out to our local pet store for a fancy new collar and special dog treat. I looked over and said to him, "Let's get you gussied up, Gus!". This moment was the catalyst that led to the creation of Gussied Up Pet Boutique!
We are thrilled to offer you, your pet, and the pet enthusiast in your life a wide range of pet gift options for any occasion. At Gussied Up Pet Boutique, we believe that every pet deserves to get "Gussied Up" now and then!
Check Out Some of Our Adorable Furry Friends in their Gussied Up Pet Boutique Accessories! Browse Through Some of our Favorite Customer Photos!
Tag us on Instagram for a chance to be featured! @gussieduppetboutique
Gussied Up Pet Boutique
Alpharetta Crossing
11770 Haynes Bridge Road, #201
Alpharetta, GA
Check Out The "Paw"sitive Reviews!
"Cutest little store! So happy to support a new, small business and who doesn't love to shop for their pet?"
"Thank you! So many options it was hard to choose!"
"We loved everything in the store and what inspired Beth, the owner to open it. Hopefully, we can meet Gus one day. Can't wait to go back and get more things for our puppy. The puffer jacket is great!!!! Thanks for helping us pick out the right size.
"Love everything about the place!"
"Amazing Owner! So kind and sweet.. she spent attentive time with me to find my pups perfect leash. Highly recommend."
"Very cute boutique, reasonably priced, and such a friendly staff. Make sure you walk around a couple times to make sure you didn't miss anything you gotta have!"
"This is the perfect spot to grab your dog or cat fun new toys, collars, clothes, etc. Gussied Up has a little bit of everything!"
"The perfect spot to grab your dog or cat fun new toys, collars, clothes, etc. I am again going next month!"
Frequently Asked Questions